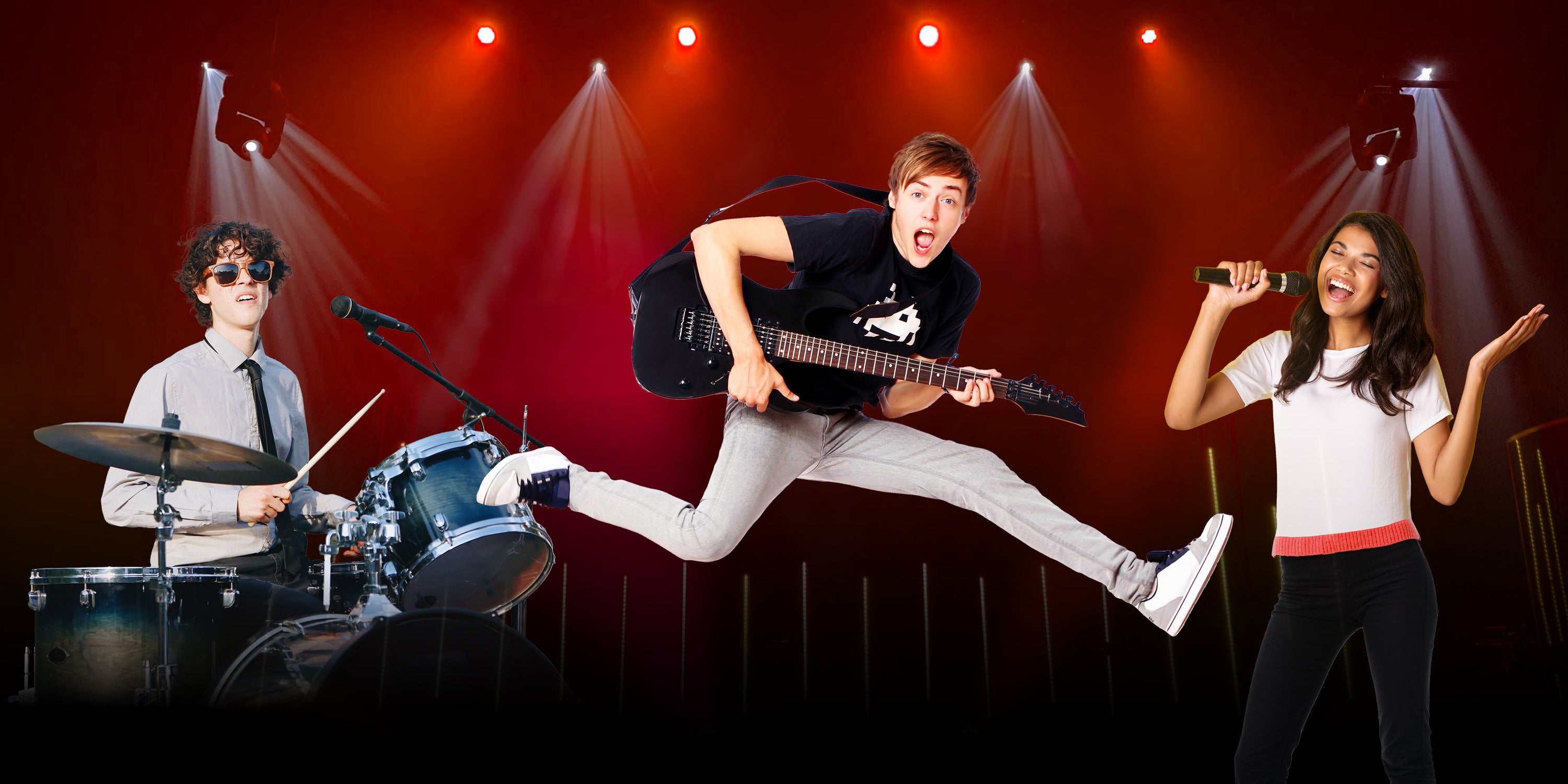 Murray Theatre at Ruth Eckerd Hall
Summer Camp: School of Rock, Musical
June 12 - August 3. 9am-4pm (Ages 14-18)
Andrew Lloyd Webber's School of Rock - The Musical based on the hit movie follows Dewey Finn, a failed, wannabe rock star who decides to earn an extra bit of cash by posing as a substitute teacher at a prestigious prep school.
There he turns a class of straight–A pupils into a guitar-shredding, bass-slapping, mind-blowing rock band.
But can he get them to the Battle of the Bands without their parents and the school's headmistress finding out?
School of Rock - The Musical is a loving testimony to the transforming power of music. Who's ready to ROCK?!

Auditions May 19 & 20. Call 727.712.2706 to schedule.

SCHOOL OF ROCK is presented by arrangement with Concord Theatricals on behalf of The Really Useful Group.
www.concordtheatricals.com
Murray Theatre at Ruth Eckerd Hall
Summer Camp: School of Rock, Musical
June 12 - August 3. 9am-4pm (Ages 14-18)
Andrew Lloyd Webber's School of Rock - The Musical based on the hit movie follows Dewey Finn, a failed, wannabe rock star who decides to earn an extra bit of cash by posing as a substitute teacher at a prestigious prep school.
There he turns a class of straight–A pupils into a guitar-shredding, bass-slapping, mind-blowing rock band.
But can he get them to the Battle of the Bands without their parents and the school's headmistress finding out?
School of Rock - The Musical is a loving testimony to the transforming power of music. Who's ready to ROCK?!

Auditions May 19 & 20. Call 727.712.2706 to schedule.

SCHOOL OF ROCK is presented by arrangement with Concord Theatricals on behalf of The Really Useful Group.
www.concordtheatricals.com
Date

June 12- August 3, 2023

Venue

Murray Theatre at Ruth Eckerd Hall

Ticket Prices

$700

Event Starts

9:00 AM

Availability

On Sale Now
School of Rock Performances
Two Weeks of Performances!
Week One
Week Two

July 27th at 7pm
July 28th at 7pm
July 29th at 2pm
July 29th at 7pm

August 3rd at 7pm
August 4th at 7pm
August 5th at 2pm
August 5th at 7pm
A nonrefundable enrollment fee of $30 per person is required (waived for REH members). Visit www.rutheckerdhall.com for membership information.
Tuition payment or tuition assistance application is due with enrollment.
Tuition Assistance is available due to the generosity of our donors and our commitment that no child shall be denied an arts experience because of financial need. Please call 727.712.2706 for details and eligibility requirements or visit www.hoffmanschoolofthearts.com.
Payment plans are available with credit card only.
Drop-Off/Pick-Up Procedures: Procedures will be sent to you prior to the first day of your class.
Refunds or credits will be given ONLY if a class is cancelled due to insufficient enrollment, in which case fees and tuition will be refunded in full.
Schedule and instructors are subject to change.