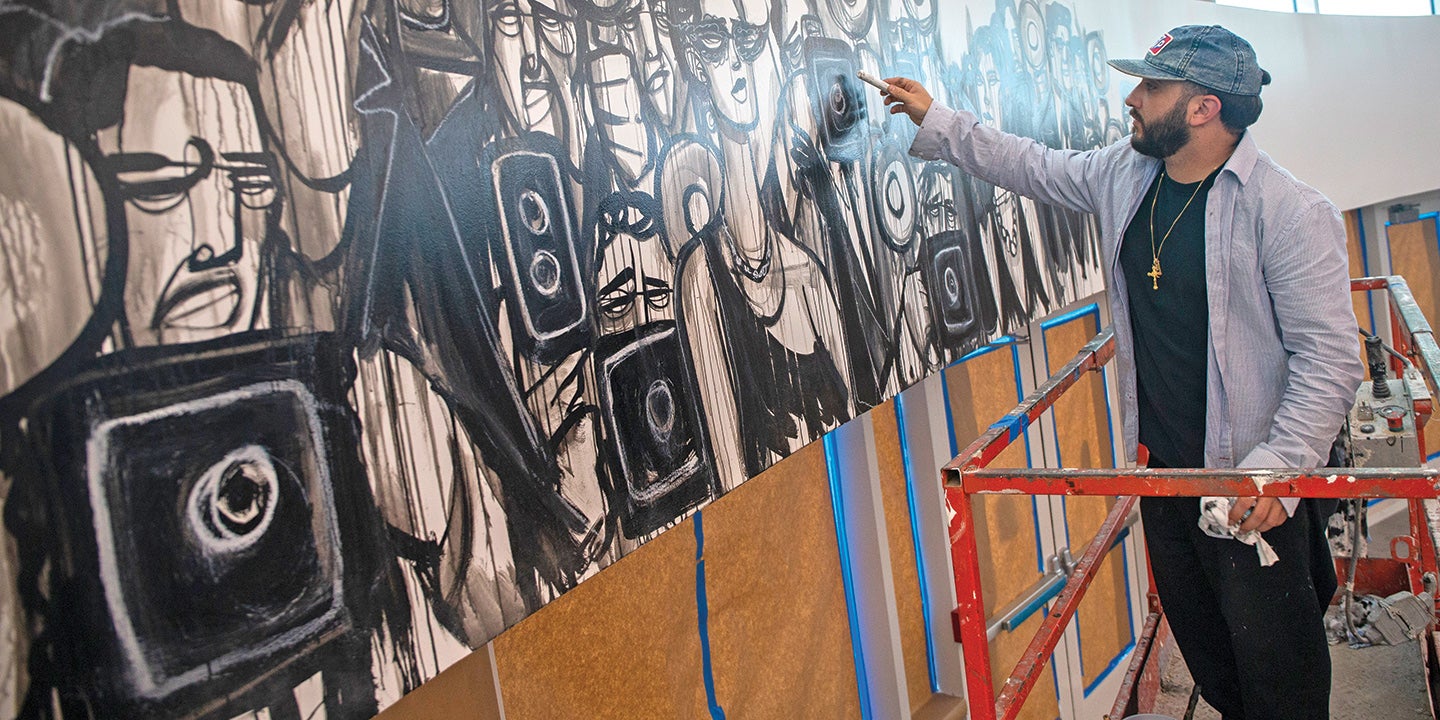 Artist Series: Stephen Palladino
A revamped grand lobby, new cabaret theatre, and more! There is so much to look at when experiencing the newly re-imagined Ruth Eckerd Hall. This breathtaking space of 30-foot windows encloses ample amenities, including a full-service bar, light dining options, a state of the art video wall, and live music.
We welcome guests to arrive early to enjoy these new amenities before the performance. After you grab a beverage and have your snack in hand, take a seat and enjoy the brand new artwork that is displayed around the grand lobby.
The art was created by Stephen Palladino, a New York-born artist who is from the Tampa Bay area. He has been commissioned by Lady Gaga, Playboy, NBA, Absolut Vodka, The Culver Studios, Jack Daniels, Fox, Reebok, Hilton, and privately throughout the World. Locally, you may recognize the 200-foot mural he created for the newest extension of the Pinellas County trail. To say we were honored to have Mr. Palladino's vision during the "reimagining process" of our Grand Lobby is an understatement.
Palladino creates work that combines loose, raw, and expressive mark-making with tight and clean line work. Jumping between two predominantly linear styles, he can create a portrait with one single line or carefully craft a character made up of precise detail work, either style being very recognizable of the artist at just a glance.
This style stems from Stephen's childhood obsession with cartoons and graffiti which shows clearly in his present work. Palladino's characters personify slick, gritty, vintage, gangster-esque gentleman as well as wild, weird, dark, demented, and lowbrow mash-ups with hidden layers of popular imagery and clever dialogue.
We sat down with Stephen to learn more about his creative flow and painting process Click the video below to learn more.
When you arrive, be sure to take your celebrity photo near the cabaret stage! You'll feel like the spotlight is on you, experience the glitz and glamour.
Not all of our artists are on stage! Next time you visit Ruth Eckerd Hall, please take a few minutes to visit our galleries on the third floor for a photo journey of the artistic process.
For more information on Stephen Palladino, please visit his website.